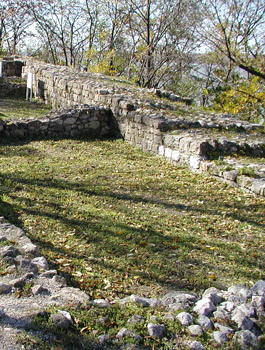 Author:
The castle and the fleet station called Sexsaginta Prista were built under the Roman Emperor Vespasianus (69 - 79 A.D.) The castle was on the main road from where Belgrade is today to the delta of the Danube River. No systematic excavations have been made on the site where the castle used to be. However, some rescue excavations have been made on spots jeopardised by modern city development. It is through them that the northeastern battle tower, a part of the northern wall and the remains of four buildings have been investigated. The tower is rectangle, its inner sizes 4,00 Х 3,80 m and its walls 2,70 m thick. 50 m of the northern wall are preserved. Its width is between 2,75 and 3,00 m.
Location
Region: Rusenska
Town: Ruse
GPS coordinates:
Added: 10-09-2005, Viewed: 10759 times
Comments
Добромир Русев

Искам да споделя с вас нещо интересно: Има запазена една италианска картичка от 1911 г., на която ясно е показано и личи как български строителни войски разрушават крепостта Сексагинта Приста, поради нужда от камъни и строителен материал. Отгоре красноречиво пише на италиански: "Русчук, България, 1911 г. Без коментар...."